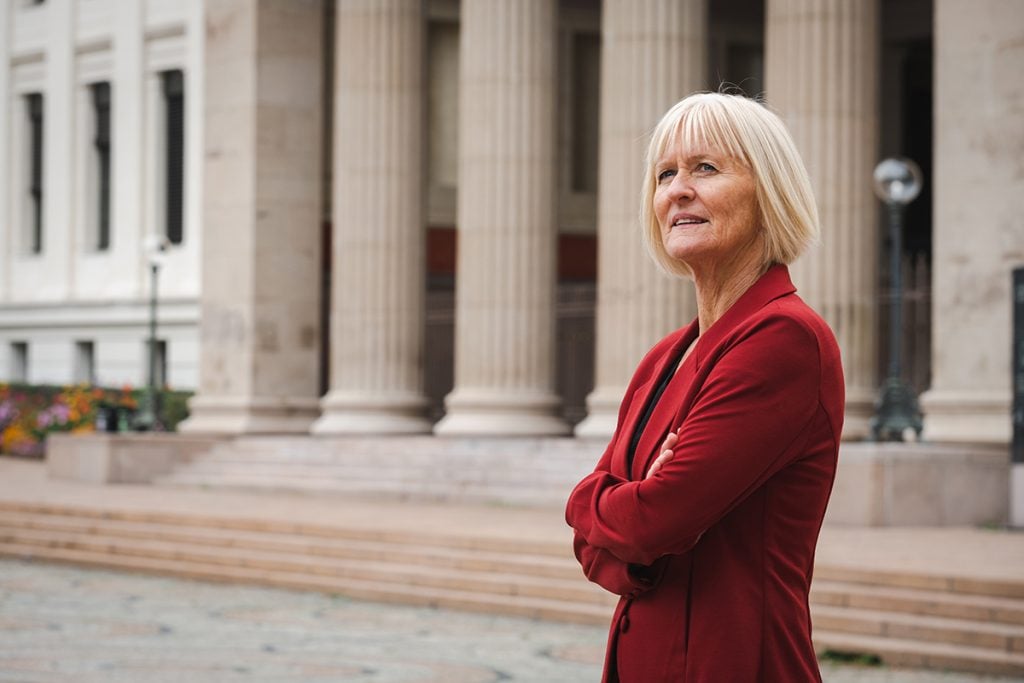 Ragnhild Lied is Unio's President.
About Unio
With approximately 400 000 members, Unio is Norway's second largest confederation.
Unio (The Confederation of Unions for Professionals) is politically independent and actively participates in labour policy, with a broad societal engagement. We focus on ensuring that public services are provided at the highest level of quality, which depends on more funding for services, increased use of qualified personnel, and better wages based on education and skill. Unio is also a driving force for keeping a larger portion of the population employed and making sure that employment facilitates inclusion and equality.
Unio has 14 national affiliates which are organized according to profession. Our affiliates work with professional development within their respective professions and promote members' wages and working conditions. Unio's members are university or college educated, and most work in the public sector – in occupations that provide services to young and old citizens in both rural and urban areas. Our members provide cradle-to-grave services for Norway's citizens.
Det norske maskinistforbund (Norwegian Union of Marine Engineers)
Norsk Ergoterapeutforbund (Norwegian Occupational Therapy Association)
Akademikerforbundet (Union of University and College Graduates)
Presteforeningen (Norwegian Association of Clergy)
Norsk Tannpleierforening (Norwegian Dental Hygienist Association)
Skatterevisorenes Forening (Norwegian Association of Tax Auditors and Accountants)
We take care of the interests of our members by proposing new policies and influencing politics on a broad front, whether in parliament, towards the government, or in the tripartite cooperation between workers, employers, and the authorities.
Unio's role is to ensure that the government and parliament facilitate a work environment that values workers' competencies and enables our professionals to deliver high-quality services to citizens.
Education should pay off! Knowledge and skills are the bases for providing high-quality services to users. Work of equal value should be paid equally! That is why Unio fights for equal participation for women and men in both work and family life.
Unios main objectives:
Members' wages and working conditions
Unio's main objectives are to improve members' wages and working conditions, secure employment, and ensure economic and social security. Unio negotiates in six tariff areas: the state, KS (employer organization for local and regional authorities), Oslo municipality, Spekter (employer organization for, among others, the hospitals), Virke (employer organization for trade and services), and KA (ecclesiastical employer and interest group).
Knowledge, research, and expertise
Unio strives to enhance knowledge, research, and expertise at the work place and in society. Research is the foundation for creating a strong public sector and a dynamic private sector.
Socio-political engagement
Unio's ensures and promotes the welfare state and society's common values. A strong public sector is the foundation for security for citizens and the creation of values in the private sector.
International cooperation and solidarity
Unio is engaged in international work because our members' interests are affected by international processes and institutions, including the EU and the ILO. Unio is also internationally engaged, with the purpose of strengthening international solidarity and cooperation with professional associations in other countries. Unio is, among other things, a member of several international organizations and works within the ILO.
Contact information
Unio
Stortingsgata 2
NO-0158 OSLO
Norway
tel +47 22 70 88 50
fax +47 22 70 88 60
Email